CLOSING MOSQUES MEANS SOME MUSLIMS LOSE AN IMPORTANT SUPPORT SYSTEM.
By Ahmad Fareed Khan
The parking lot is empty. It is the middle of the afternoon, but the place is eerily quiet. Usually, around this time, the Islamic Centre of Cambridge should be bustling with activity. But due to the lockdown implemented by the Ontario government because of COVID-19, not a soul can be seen in the centre's premises. The Islamic Centre is located just across from the Cambridge Centre, the largest indoor shopping complex in Cambridge. On one side of the Islamic Centre is the Armenian Community Centre, the Ararat Youth Centre and the British Club of Cambridge. The club offers an event space with a dance floor and a licensed bar.  On the other side is the Humane Society.
The centres presently undergoing a multi-million-dollar expansion by adding a school, which will be connected to the mosque. The centres a place for marriage ceremonies, religious festivals such as Eid and other community events. The closure of Islamic centres had a considerable negative impact on many members of the Muslim community. Imad Amir is one such person who has felt the impact of these changes first-hand.
Amir came to Canada on a student visa in the late 2011, and after graduating, he decided to make Canada his home. Although he has some distant relatives in Canada, most of his immediate family lives in Pakistan. Amir was a frequent visitor to the mosque before its closure. Amir lives in shared accommodations, so for him, the mosque was so much more than just a place of worship. "The mosque is like a support system. I mean, when you go there, you see other people just like myself, who are here in Canada, struggling to make a life for themselves. You can sit down with them and have real conversations. You have people there that are going through similar things. They don't mind spending time with you. They understand your worries." But Amir is not just worried about himself; he has other people in his life he has to think about. "I recently got married. My wife is back in Pakistan. I applied for her immigration application. It takes close to a year in the best of times to get the immigration application processed, but due to COVID-19, things have really slowed down."
There is some truth to what Amir had said. The Government of Canada's official website states that even though Canada is still accepting citizenship applications, the department's ability to process them is being impacted. This provides little comfort for Amir. He and his wife get into arguments on the phone. "My wife is a good woman. It's hard to be living with a newborn. It is really putting pressure on our relationship. My wife does not understand how the Canadian immigration system works. She says she gets depressed. She sometimes cries over the phone, telling me how difficult it is for her. I had signed a lease for a new apartment, so she and I can start our new lives here. But now I can't do it. The economy is hard at the moment."
Amir still shares space with four other people. With a deep sigh, he said that he is getting tired of this way of life. The mosque was a place where he could get a sense of normalcy. "At the mosque, you could sit down with other people and talk about things to get your mind of these problems. At the mosque, if you did not show up for a few days, someone would call and check up on you, now that is gone as well." Amir said the combination of his being away from his family, closure of the mosque and the lockdown, in general, was having a bad impact on his mental health. "I am an essential worker, but you are always scared if you might get COVID. I try to protect myself, but what about the people I share the place with? I get depressed. I get lonely. I think there is no one you can talk to. I feel my life has stopped. I am not a person who gives up hope very quickly, but it is hard. Sometimes, I just want to leave everything and go back to my family, but then how will I earn money? How will I support them? I do not want to fail them."
Visible minorities, whether they are recent immigrants, new Canadians or long-term first-generation residents, do not possess the same social network as those of the local Canadian population. Due to economic marginalization and greater social isolation, their places of worship become more than just a religious institution and a place of spiritual self-reflection. It also served as a cultural hub. The place kept communities connected and gave them a sense of belonging. The mosques were not only visited by men, but also by women, children and the elderly. The closing of the mosques created hardships for this diverse demographic.
Makkah Khan, a widow in her early 50s, lives with her son. Standing almost six feet tall, Khan towers over most women and many men in her community. Khan used to go to the mosque at least two times a day. The visits became more frequent after her husband died.
"The mosque has always been my second home. My husband was a religious and a very good man. Now he is gone, and I am alone. It is hard living by myself. My son looks after me the best he can, but he has his own life." At the mosque, Khan was able to talk to more women in the community and found some other people who were also facing challenges. "There were some other sisters at the mosque who were also in a similar situation. They were a lot older than me, but still, they could relate to my struggles. We used to cook for each other. We used to support each other. Canada is a great country. But for people who do not have a family network here, it can get very lonely."
The mosque has served as a glue that holds communities together. However, people also realized that the government's actions were necessary. People such as Rashid Khan, a senior citizen, is a living embodiment of this. Rashid, a retired person who is almost 70, came to Canada in the 1970s. Broad-shouldered and barrel-chested, he used to work as a bouncer during his youth and was even shot at once, when he worked at a convenience store. He thought of the mosque as a recreation space. "For me, the mosque was like a retirement place. At the mosque, I knew a lot of retired people. We used to share a lot of problems we were facing living here. It was very comforting. I am almost 70 years old. The world has little use for me. So the mosque was like a safe house."
To keep himself busy, Rashid used to drive people from Cambridge to and from the airport. But due to COVID-19 and tighter government restrictions, people were travelling less. "It was a way to keep myself busy. When people are in the car with you, they like to talk. This way, I also learned what was happening in the community. This way, I could also help someone out by talking to other people at the mosque about their problems. It made me feel better." Rashid understands that the restrictions are for everyone's benefit. One of his friends had recently contracted COVID-19 and was admitted to the hospital. Rashid said he does feel depressed after hearing this news.  "You only find out how deadly the virus is when someone close to you get infected by it. I heard my friend was not in good shape. I tell everyone stay home if possible."
It is quite clear that adherence to one's faith was not the only reason people went to the mosque. For some, it was a sort of escape; for others, it was a meeting point. The mosque was a popular place for young girls and stay-at-home moms. In her early 20s and a recent graduate of Conestoga College, Alina Ahmad used to go to the mosque to catch up and stay connected with her friends. "I like face-to-face conversations. The mosque is an ideal place for those. It's a community place. You meet other girls your age and with similar circumstances. Growing up in Canada as a Muslim girl can come with its challenges. So, it was always good to go to the mosque. You don't feel like you have to explain anything to anyone, and you can really be yourself."
Housewife Zakia Kamal, a mother of two, who came to Canada after marriage 15 years ago, misses socializing with her friends. Kamal and many of her friends use to meet at least twice a week at the mosque. "We spoke about everything from cooking tips to potential matchmaking. We also tried to help each other out financially. I miss home sometimes, and the mosque is a very good place to find company." Kamal thought of the mosque as an important cultural centre that brought the community together and kept them informed of each other's situations. For many, it is hard to imagine the importance and centrality of the mosque for Muslims' community life. The mosque offered them a taste of their ancestral homeland as they adjusted to life in their new adopted home of Canada. Mohammad Sohail, a father of three, can relate to this. Sohail used to take his children to the mosque so they can keep in touch with their parents' cultures. Sohail missed the hustle and bustle after the Friday prayers and during the different religious and cultural festivals that were held at the mosque.
"The great thing about Canada is its multiculturalism. However, we being Canadians, still also want our children to know and feel like part of their parents' original culture." Language is very important for Sohail. I could overhear him talking to his child in their native Pushto language when the child would attempt to interfere in our conversation. "You see, if you lose your mother tongue, which most immigrants eventually do, it's hard to relate to your kids. It's not anyone's fault. But going to the mosque, they could learn about the importance of their parent mother tongue…. I think [the] more kids learn about different cultures, the better people they can become. I think this adds to their intelligence. I feel the mosque plays a big role in teaching kids the importance of tolerance and understanding. At the same time, kids are under no pressure to act in a certain manner." Sohail hoped that the mosque would open up again soon. But also admitted that it might be sometime before that actually happens. His tone was cautiously optimistic. He felt that the government made the right decision by imposing a lockdown. "I trust the government. They are well-intentioned people who are acting on the advice of the experts. You really can't blame them."
Talking to more people made it obvious that most of them supported the government's actions to restrict gatherings. Many understood the importance of keeping everyone safe. Newlywed Paymam Nouri Mohammad, in his mid 20s, went to the mosque for peaceful, quiet reflection. His wife has yet to be granted a visa to come to Canada from Pakistan. Mohammad was sensitive about the elderly population. His father died a long time ago. His father's death was not related to COVID-19; however, he did not want to see anyone else lose a loved one because of the disease. "We have to protect the elderly. Most people who come to the mosque for a longer period of time are the old people. Other than their homes and the mosque, they don't have any other place to go. So, this lockdown is important. I know it is hard for them, but still." Mohammad is right in his concerns. According to the government of Canada website, as of Feb. 12, approximately 70 per cent of all hospitalizations in Canada were of people who were over the age of 60. The website further noted that close to 95 per cent of all deaths from COVID-19 happened in Ontario and Quebec.
Mohammad still misses the great time he had at the mosque. "It was more of an escape for me. I use to come here every evening to take Qur'an classes. It was great fun. The teachers are laid back. They understand the kids are tired after a long day at school. They also used to listen to us, kinda like console us but not really console us, if you know what I mean."
Mohammad said that he shifted to online Qur'an classes for a while, but it is not really the same. "The atmosphere is what I really miss. I mean, you are all sitting on the floors, cracking jokes, and learning a few things as well. It takes your mind off some of the worries. It kinda keeps you sane." Mohammad said.
Many people agree with the views of Mohammad. Fawad Khan, a self-employed father of three, is a strong supporter of the lockdown but hopes that the lockdown would hopefully end soon. Fawad is a first-generation immigrant to Canada and made new friends by going to the mosque. "Many of my friends are the first people in their family that came to Canada. We really don't have any family here, so we have to make new circles. But most of them live in different areas. Every Sunday, we use to get together at the mosque. My kids got a chance to meet their friends who go to different schools." Fawad hopes that the government could get everyone vaccinated over the summer so things can start getting back to normal. "It's hard on the kids and hard on my wife. She is a stay-at-home mom, and going to the mosque was like taking a break. It's not good for the children to be locked up like this. They need to play.  I know the government is doing everything they can; let's hope things will start getting better."
University student Omer Ahmad spoke of his experience of the mosque closures. For Ahmad, the mosque was a place to go and reflect on how fortunate he was to be living in Canada. "You go there you pray, talk to friends and just hang out. It's a fun place to be. You learn a lot every time you go there. It also makes you feel lucky to be in a country like Canada. I mean, we can live how we like freely. To me, the mosque is also a symbol of how great this country is." Ahmad was of the opinion that going to the mosque convinced him that there was not much difference between being a good Muslim and a good Canadian. "The mosque provides your perspective. It's like we are here to live and leave this world a better place than we found it, which takes away a lot of pressure from everyday life. I use to bring some of my non-Muslim friends here as well. We all had a great time here."
Amir Irfan a self-employed, long-term resident of Cambridge who used to go to the mosque at least three times a day. Medium built with hair of glittering grey, Irfan is in his late 50s and cuts a sombre figure. He felt that the mosque was the only place where he got to have real and deep conversations with other members of the community. "The lives and schedules of peoples are always clashing. So, the prayer time is one time when everyone used to get together. It's like an extended family. We don't agree on many things. But we try to keep the best interest of everyone at the centre." Irfan believed that the lockdown has virtually closed this avenue and made it harder for people to sit down and communicate. It has been hard on him at a personal level as well. "The praying is very important for me. It helps me to deal with everyday problems. The biggest problem for me now is the uncertainty. No one really knows when this will end. This is very unsettling for me. Sometimes I cannot even believe this is happening. It seems like a bad dream." Irfan also mentioned that this was impacting his mental health negatively and said that many of his friends were having similar issues. He said mental health, anxiety and depression was a silent disease on top of the pandemic. He thought that this aspect of the pandemic should also be highlighted more. In research published in 2015, Farzana Chaze, a professor at Sheridan College, said the Canadian health-care system does not understand the importance of faith-based institutions. In her paper, Chaze noted that immigrants from South Asia particularly have a deep understanding of the link between religion and mental health.
Despite these challenges, Irfan was sympathetic towards the government's approach. "What else are they supposed to do? They have tried everything. I think they are very honest in how they are going about this. I do think they can speed things up. But then I think it is out of their control."
The people who looked after the mosque also missed having the members of the community. Maqbool Rehman, one of the caretakers of the mosque who also sits on the mosque committee, was not surprised by some of the comments made by the community members. "It's been very hard on a lot of people. We even had to postpone wedding ceremonies. We had to lay off a few of the teachers. So, it has been a huge adjustment period." Rehman was concerned about the most vulnerable members of the community.
"The women and the elderly are the most frequent visitors, especially those who are either new to Canada or came on sponsor visas. They find it very hard to adjust to life in Canada. At any given point, we might have 15 to 20 people here just sitting in the prayer hall talking to each other." Rahman admitted that he himself felt strange when coming to an empty mosque.
"I have to come here to make sure all the maintenance is good. I did not think that in my lifetime I would ever see the mosque like this. It's a fairly large place, and for it to be empty like this is sad…. We still get people contacting us and asking when the mosque will re-open. It is not up to us. We are just doing what the government has told us."
On Feb. 12, the stay-at-home order ended, and Waterloo Region re-entered the province's red control zone. That means that the mosque can operate at 30 per cent capacity. That is great news for many community residents. Many of them have lost their jobs during the COVID-19 pandemic and partial reopening of the mosque is a step in the right direction. Ministry of Health spokesperson Lindsay Davidson said the provincial government was aware of the centrality of the role religious institutions played in maintaining the mental health and well-being of their attendees.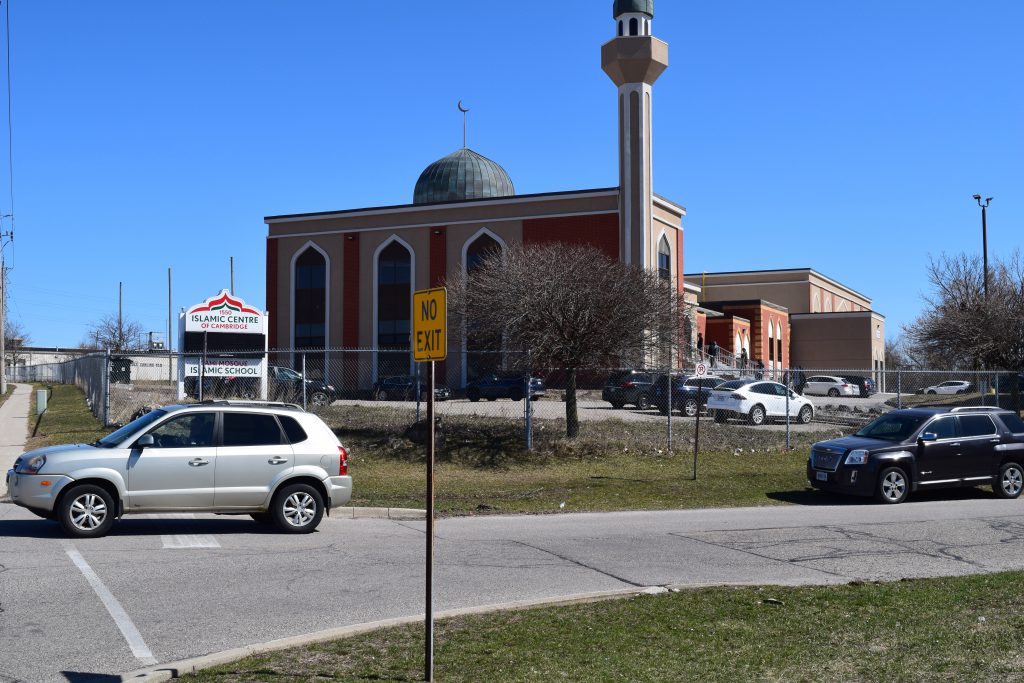 However, experts such as Chief Medical Officer of Health Dr. David Williams warned people to avoid social gatherings and stay at home as much as possible. These observations provide little comfort for people like Amir. They now face an uncertain future and might have to wait a long time before the mosque fully reopens and he and other people can visit the mosque again.