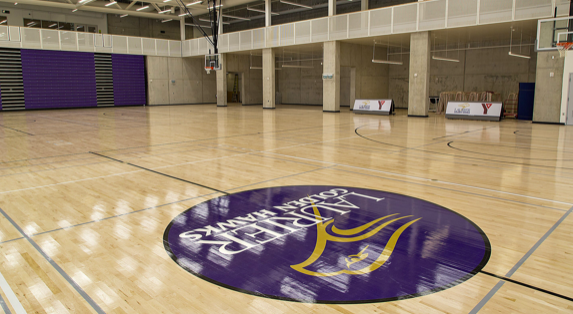 STAFF AND STUDENTS ARE EXCITED TO RETURN TO SPORTING EVENTS, BUT MANY SCHOOLS ARE NOT READY TO COMPETE.
By Meagan Hodgetts
Recreational and competitive sports have returned to Laurier Brantford, and student athletes are excited to get back to the routine of practice and competition. But the return doesn't look exactly like it did two years ago. 
Sports returned to Laurier Brantford in September after the Ontario Colleges Athletic Association said schools could resume competition.
But coming back from a two-year break isn't as easy as some schools as it is for others. Megan Jacklin, co-ordinator of recreation and student life for the Laurier Brantford YMCA, said even though the OCAA has allowed for varsity sports to return, many schools aren't ready. 
"There is nothing to compete in," said Jacklin, adding that many universities and colleges converted their gymnasiums and practice spaces into either vaccine clinics or makeshift classrooms. 
Chiara Carinci, recreational program leader at Laurier Brantford YMCA, said many schools aren't prepared to train and compete.
"Extramural sports are just practice teams right now. Other schools don't really have teams," she said. While Laurier Brantford has volleyball, hockey and basketball extramural teams running right now, there are no competitions. "If you're a varsity athlete, you get a tournament, you have your practices, you get everything you would normally get," Carinci said. 
Intramural events have taken a back seat too as Laurier Brantford's athletic staff navigate a new partnership with the YMCA. Brantford's YMCA is the first to share its space with a college or university. While it gives students access to programming and athletic space, scheduling events between the university and the YMCA's own programming can be hard. "We'll probably try some better organized things in the fall," said Jacklin.
While there are struggles to competing and re-entering the world of varsity athletics for Laurier and other schools province-wide, there is also a lot of excitement in the air.
"My most memorable experiences have been through sports," said Kara Hughes, a fourth-year Criminology student at Laurier Brantford who captains the women's indoor soccer team.
Hughes has competed in nationals as part of Laurier Brantford's cross-country team. The team has travelled to Alberta. "Playing sports helped me get involved and is how I met almost all of my friends," she said.
A large number of students who spent the majority of their time at university and college participating in athletics didn't get the same closure as Hughes and Carinci. OCAA president Nathan McFadder said the more than 4,000 students who participate in athletic events as part of the OCAA have now gone two years without sports. 
While the struggle isn't over yet in terms of coordination and organization, Jacklin said she's hopeful Laurier Brantford athletes will be back competing next year.