FORMER JOURNALIST FINDS A NEW WAY TO SERVE HER ALBERTA COMMUNITY.
By Natasha O'Neill
It was like any other dark, bitterly cold day in Edmonton. However, this November day is stuck in the minds of the StarMetro Edmonton news team. Reporter Claire Theobald was starting her day at the court house, working on a particularly gruelling and heavy case, when the email came in—it was a call for an all staff meeting. "I had been in the business long enough to know what that means," remembered Theobald. There were going to be cuts to their newsroom. Luckily, Theobald was on a break in court when she got the message and hurried back to be with her friends. When she made her way to the newsroom, she saw the gathering of her co-workers in a circle. Barely anyone noticed the human resources person from Toronto walk in because of the armful of brown envelopes she carried. Theobald looked around at her friends and saw the fear and sadness in their eyes, because journalists are trained to hold their emotions back. "This is a closure," said the HR person from Toronto. "And that's when it hit me," said Theobald.
This was Theobald's fourth layoff experience and the last she endured. Because of her past experiences, she has always kept a brown box under her desk for any layoffs where she was asked to leave immediately. "It was also a good visual reminder, you know, don't get too comfortable, because your time is coming too," she said. Theobald used journalism as a way to showcase social justice and create a voice for her community. She's full of energy and passion towards creating change and loves to write about stories that aren't being told. "I'm a bleeding heart, when I see injustice, I've never been able to ignore it," she said. The journalism industry has been under attack for a long time, and journalists who are dedicated to telling the truth are slowly slipping away. Theobald is so dedicated to creating social change that she's no longer in journalism. Instead, she found another avenue through which her community can benefit from her fighting passion and inability to let issues pass by her.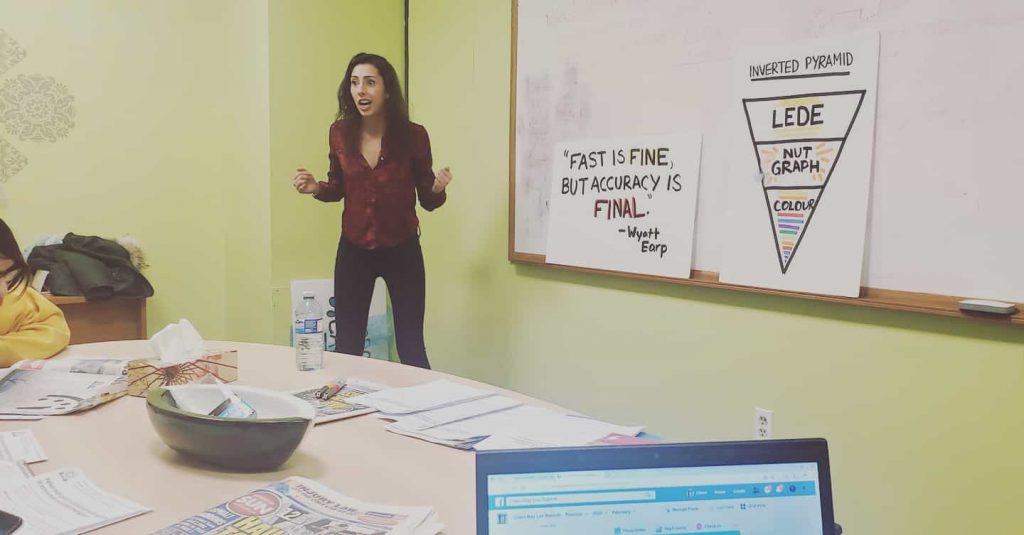 Theobald teaching journalism to kids at Montana First Nation (Photo by Chevi Rabbit)
Growing up in small town Tofield, Alta., she always had a strong sense of community thanks to her parents. "I saw it [journalism] as a platform, as a vehicle for creating positive change in my community and supporting my community," she said. Theobald didn't figure out what she wanted to do until very late in grade 12. At the time she was deciding to be either an oil sands truck driver or a bartender. But one day, in the middle of class, it struck her that she might never write again, and it never occurred to her how much she liked it. For the fourth time that year, Theobald jumped up from her seat, and ran down to the guidance counsellor's office and said, "I need to be a writer, how can I make this happen?" She attended Grant MacEwan College (now a university) for journalism. Through school she saw the power of journalism in communities and vowed she was in the industry because of her heart. "What I value … is what I like to call scrapbook pieces, a piece that's beautifully written and important to the family, and the people in that story, and it's the stories they clip out and keep in their scrapbook," said Theobald.
An article that sticks out in her mind is a tragic mystery that kept her searching for years. Working the night shift one summer evening in 2015 for the Edmonton Sun, Theobald heard on the police scanner that a trench had collapsed with a man inside. At the scene, she watched with first responders and reporters as firefighters tried to free the man. At the time no one knew the name of the day labourer, but later Theobald got a tip that suggested his name might be Fred.  "I stood there at the scene, praying along with everyone, praying for the best but knowing the worst," she said. The part that bothered Theobald was that this tragedy could have been avoided. The man was in a trench whose sides were not reinforced as they should have been while another labourer was digging with a backhoe. Not knowing who the man was haunted Theobald and she wanted to tell his story of injustice. She searched for years trying to piece together any information she could about him. It wasn't until 2018, when the accident went to court, that she heard his name out loud. "Fred Tomyn, 55. I knew his name and I knew his age, and I was sitting in the gallery, it's a small room and you know you're supposed to be very stoic, but it took everything I had not to jump out of my seat," she remembered. From there, Theobald found Tomyn's mother and brother and asked them if she could tell his story.
"She is very, very tenacious, definitely persistent," said Kevin Maimann, a former co-worker at StarMetro Edmonton and friend of Theobald. For him, Theobald is the kind of journalist that doesn't let things slide; she will always work until she gets what she needs. One day at the newsroom, Maimann witnessed Theobald raising her voice at a difficult police spokesperson, someone all journalists in the newsroom complained about. "I remember being a little bit shocked and very impressed. And she just, like, kind of like got stern with him. I hadn't seen anyone else actually stand up and do that," he said with a laugh.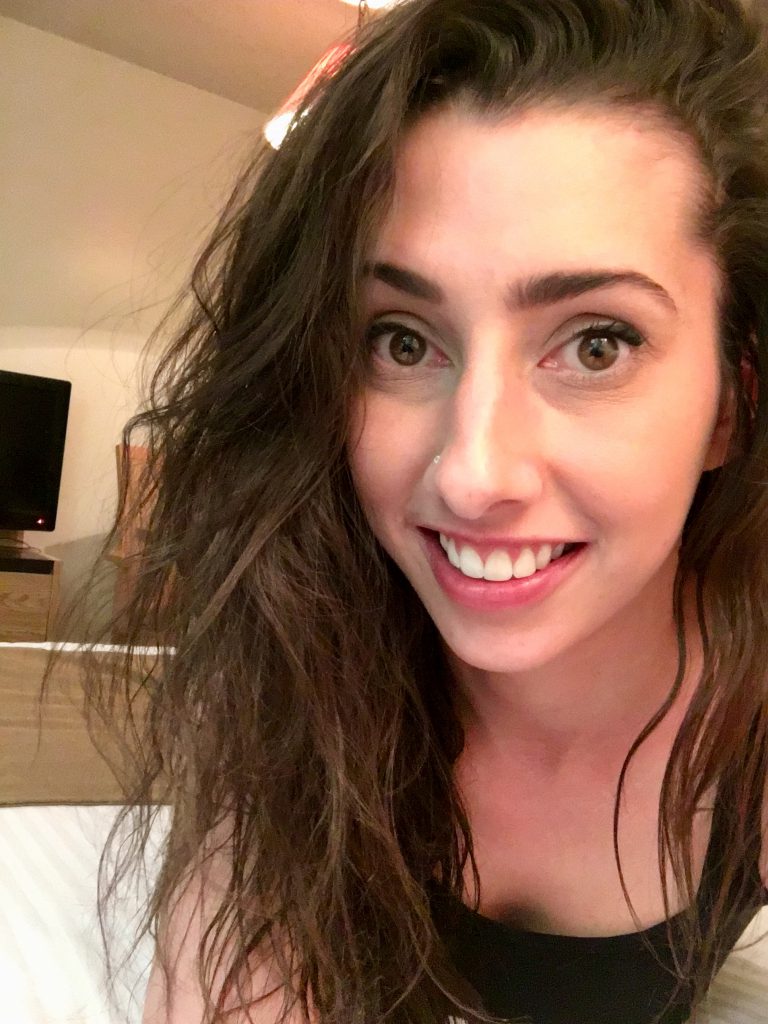 Theobald (May 2019)
The journalism industry is small in Canada, so small that the colleagues you see every day become a part of your family. The hurt of being laid off has a lasting impression on those who endure it. Theobald found another job with the St. Albert Gazette shortly after she got laid off from StarMetro Edmonton. She was fortunate to be able to continue to do what she loved. Her job was to travel to the most rural places in Alberta to tell the stories that weren't being told. When the COVID-19 pandemic hit she wasn't able to do the "boots on the ground" type of journalism she always did. She always prided herself on the fact that she would sit at people's kitchen tables listening to their stories. And slowly her heart wasn't in it anymore. "The moment I don't care about it, or the moment I feel disconnected, I'm leaving the newsroom. Because, you know, once my heart's checked out, I need to check out as well," said Theobald. She is now studying to become a legal assistant. For Theobald, this is another avenue to help her community. She's tired of sitting on the sidelines and shouting into the void. This is her way of making sure she can create change– by moving the needle herself.