A LOOK AT HOW NIAGARA FALLS HAS SURVIVED THE PANDEMIC.
By Katelyn Thomson
Canada's top tourist destination, Niagara Falls, lost more than 50 per cent of its usual revenue this year because of pandemic restrictions and the closure of the US border.
The most recently available consolidated financial statement for the city is from 2017, when Niagara Falls made $842,299 in revenue. That means a 50 per cent loss this year could amount to about $421,150.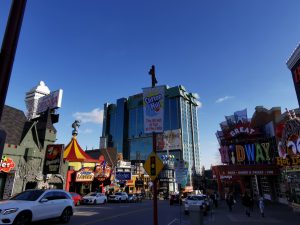 "We knew we had a big challenge this summer because we count on millions of people coming to the city so that we can build our businesses and revenues," said Mayor Jim Diodati.
"We get upwards of 14 million people a year, and typically approximately 25 per cent of them are Americans, and that typically represents 50 per cent of the revenue [of the tourism sector]."
Throughout the pandemic, Diodati has spent his time focusing on how they could safely resume operations.
"We're happy that we were able to stay open. We did have people saying to shut the city down, but that was never an option, and we never even considered it," he said. "We wanted to figure out how we can stay open in a safe way; safety was always the objective."
The city launched a number of COVID-19 programs, such as the Crush The Curve Ambassadors, a group of volunteers walking around the main tourist areas offering free masks and hand sanitizer to guests.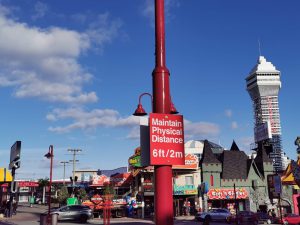 Niagara Region resident Emily Thomas said she did not feel safe even with these measures in place when she visited the major tourism centre, Clifton Hill, in the summer.
"On the hill, nobody was social distancing, and barely anyone was wearing masks," she said. "When you were walking around, you had to try to avoid people because they just didn't really seem to care."
This is exactly what stopped David Chow and his family from visiting Niagara Falls this year from Markham, Ont.
Chow usually makes family trips to Niagara Falls upwards of four times a year for holidays, birthday celebrations and his son's sports tournaments. Because of the pandemic and the lack of social distancing, Chow decided to cancel their trips this year.
Chow said he doesn't think people should be travelling at all and should stay home and isolate instead. "If there's too many people in one place like that, it could lead to a bad thing, that's how these things spread."
Riley Radobenko, a Niagara Region resident who worked this summer at the Butterfly Conservatory, said while it felt busy at times, there were significantly fewer visitors than usual.
"Though attendance increased as the summer progressed, I didn't think it was overly insane," said Radobenko.
Radobenko experienced a number of visitors who weren't wanting to follow protocols, such as wearing masks.
"Working in the tourism industry, it's a quick realization that guests can be very entitled and poor listeners…especially in a protocol-based world."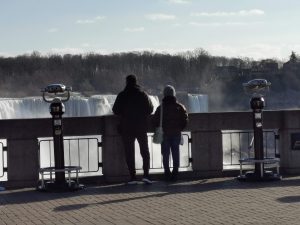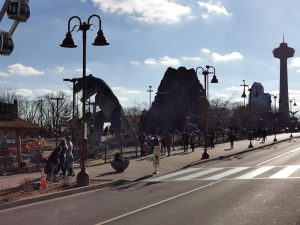 Diodati said he feels proud of all the city has accomplished during the pandemic.
"Even though statistically, there should have been a way higher risk, to date, there hasn't been a single documented case of transmission from a guest in Niagara Falls to one of our hospitality workers."
Diodati said this proves their safety efforts have been effective. "You could maybe get lucky one night or one weekend; you don't get lucky for three months, you know maybe it worked, maybe what we did was effective here."
With the opening of the Winter Festival of Lights, visitors to Niagara Falls have once again increased.
"The last two weekends, the city was jammed," said Diodati. "People realize that the Festival of Lights is something you can do safely from your bubble of your own car."